AS A SIDEMAN
INÊS MALHEIRO - LIQUIFY,SPREAD AND FLOAT [PJ082CD]

Inês Malheiro - voice, fx
Daniel Sousa - saxophone, electronics
João Almeida - trumpet, fx
José Vale - guitar, fx
Vicente Mateus - drums, fx
Carolina Fangueiro - visuals

Live at Guimarães Jazz Festival, CIAJG, November 2021
Recorded, mixed and mastered by Sérgio Valmont
Graphic design by Maria Mónica
Carimbo Porta-Jazz 2022
Released July 14, 2022


ROJI - DUAL GAIA [AUTHOR EDITION]

Gonçalo Almeida - Bass

Jörg A. Schneider - Drums & Electronics
Joao Almeida - Trumpet
Patrick Shiroishi - Alto Saxophone

Recorded spring 2020 at Loundry Room Hückelhoven by Ralf J. Rock
Mixed and mastered by Peter Koerfer and Jörg A. Schneider at The Unknown 2020, Dohr summer 2021
Released June 12, 2022


HYPER.OBJECT - INTER.INDEPENDENCE [PU8CD]

"Hyper.object" was formed in 2019 by three veterans from the Lisboa free improvised scene (Rodrigo Pinheiro on the piano, Hernâni Faustino on the double bass and Carlos Santos on the electronics) and by two young musicians (João Almeida on trumpet and João Valinho on drums). Since its beginnings, the group had frequently joined for rehearsals but as soon the pandemic hit, the gatherings were restricted to only when there was an opening on the frequent lockdowns. During one of these openings "inter.independence" was recorded. On "inter.independence" the premise defined for the recording session was, beside all musicians having complete freedom to improvise and to choose their musical ideas, there should be an active focus for each one to develop their ideas individually and to not immediately react or engage in direct dialog with the other musicians from the group. What was being experimented was the creation of several individual and independent layers that would interact organically, so that the tension would arise by the textures and the expected and unexpected interactions created between these different layers that each musician was taking care of.

Rodrigo Pinheiro - piano
João Almeida - trumpet
Carlos Santos - electronics
Hernâni Faustino - double bass
João Valinho - drums

All music by Rodrigo Pinheiro, João Almeida, Hernâni Faustino, Carlos Santos and João Valinho
Recorded by Carlos Santos at Timbuktu Studio on the 27th September 2020
Mixed and mastered by Rodrigo Pinheiro
Cover Illustration and graphic design by Madalena Matoso
Inside photo by Nuno Martins
Produced by Rodrigo Pinheiro
Executive Production by Phonogram Unit
Released April 1, 2022


GARFO - GARFO [CF570CD]

"If you were still uncertain about the relevance and the freshness of Portugal's contributions to the worldwide jazz and improvised music circuits, this is for you: Garfo (Fork in English) is a band formed by four of the youngest generation of musicians active in the city of Lisbon. Lead by saxophonist Bernardo Tinoco, but with all members composing its repertoire, they play a empathic music with mind-puzzling structures and crossed time signatures, with lots of free improvisation to open up the frames. Coming from a family with strong ties with classical and jazz music, Bernardo has a sweet tenor sax sound rather unnusual in these domains. A former pupil of trumpeter Peter Evans, João Almeida's sonic constructions give the maximum effect to his minimalist approach: just a few motives are enough to make a blast. Bassist João Fragoso and drummer João Sousa keep the motion with an energy that never dissolves. And that's it: jazz turned again a music made by twenty-something years old innovators, with urgency but also a very surprising maturity. And they're conquering the local scene, obliging the older musicians to keep the pace. It's predictable that a new Portuguese jazz boom will come from this."
Rui Eduardo Paes (Liner notes)

Bernardo Tinoco - tenor saxophone
João Almeida - trumpet
João Fragoso - double bass
João Sousa - drums

Recorded at N Studio, Lisbon in December 2020.
Recorded, mixed and mastered by Hugo Romano.
Produced by Garfo.
Executive Production by Pedro Costa for Trem Azul.
Design by Travassos.
Released June 18, 2021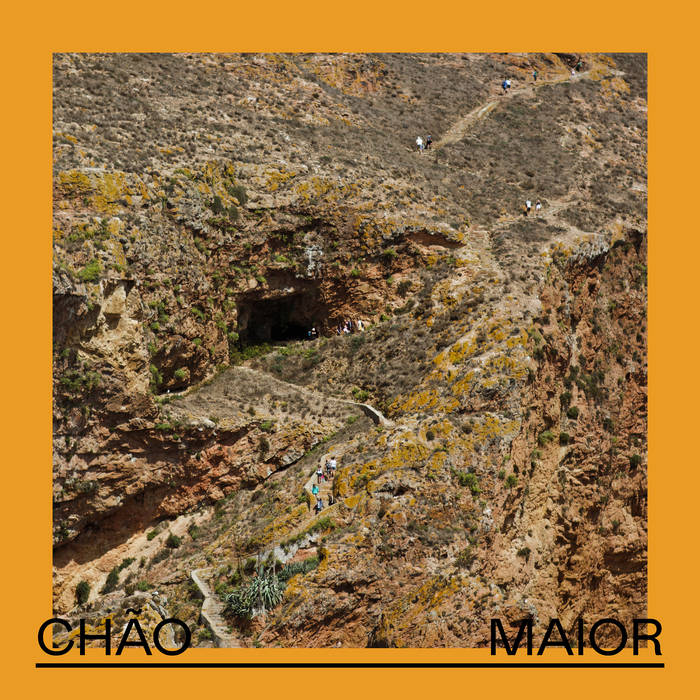 CHÃO MAIOR - Drawing Circles [RVLV40]
Six of the most interesting musicians in the portuguese experimental jazz scene realize the compositions of Yaw Tembe, who has written the first rough outlines of what now became "Drawing Circles" since back in 2018. "Drawing Circles" is a place where jazz, rock, folk or kraut all come together in a flow whose course is heavily dictated by improvisation and experimentation.

Yaw Tembe - composition and trumpet
Norberto Lobo - guitar
Ricardo Martins - drums
Leonor Arnaut - voice
João Almeida - trumpet
Yuri Antunes - trombone
Recorded, mixed and mastered by Hugo Valverde.
Fotography by Francisca Veiga
Design by
desisto.pt
Production by Yaw Tembe
Released January 29, 2021
Fragoso Quinteto - Dura Natureza (CENA JOVEM JAZZ.PT)

"Author music, personalized, with Fragoso's writing syncretically derived from the many songs that interest him. With João Almeida on trumpet, João Carreiro on guitar, Miguel Rodrigues on drums and Albert Cirera on tenor saxophone, this group is the result of the intersection of a series of trends. Sometimes it had a particularly suggestive melancholic melody, others in which the Blue Note sound of the 1960s resonated and still others, especially in solos, in which it flowed into the free and beyond, with, for example, Cirera introducing some of the lexicon of reductionist improvisation. All of this within somewhat extravagant structures in its sequential relationship within the same piece, with the more conventional forays into jazz sounding fresh and unpredictable."
Rui Eduardo Paes, Jazz.pt.


Albert Cirera - Tenor Saxophone
João Almeida - Trumpet
João Carreiro - Guitar
João Fragoso - Double Bass
Miguel Rodrigues - Drums


Recorded on October 2018 during an artistic residency at Salão Brazil, Coimbra.
Recorded by Francisco Gaspar and Rafael Silva.
Mixed and mastered by Luís Delgado.
Executive producer JACC.
Design by Joana Monteiro.
Photography by Maria Bicker.
Released October 10, 2019.




IKB - Hippocampus guttulatus (Creative Sources)

Ernesto Rodrigues - viola
Maria Do Mar - violin
Guilherme Rodrigues - cello
Miguel Mira - cello
Hernâni Faustino - double bass
Mariana Carvalho - piano
Miguel Almeida - acoustic guitar
Abdul Moimême - prepared electric guitar
Kriton Beyer - daxophone
Emilie Skreijelj - accordion
Etienne Brunet - harmonica
Bruno Parrinha - bass clarinet
João Almeida - trumpet
Nuno Torres - alto saxophone
Joana Sá - soprano saxophone
Pedro Frazão - euphonium
Miguel Canada - tuba
Carla Santana - electronics
Carlos Santos - electronics
Pedro Carneiro - marimba
Tom Malmendier - percussion
João Valinho - percussion

Live recording by Miguel Azguime on November 21st 2019
during the CreativeFest XIII at O'Culto da Ajuda, Lisbon.
Mix, master and graphic design by Carlos Santos.
Drawing by Dilar Pereira.
Production by Ernesto Rodrigues.
Released February 11, 2020